Finally for the first time in a long time as far as festival looks go there is not a flower crown in sight!  Flowers are still dominant however, but moreso in a floaty bohemian 'just stepped out of a bush' look.  On the show this morning I tailor made 2 festival looks with minimal effort to bring you from day 1 to day 2 and keep you looking glam….
Check it out:
Day 1: Bohemian flower fairy with unicorn braid (inspo Gigi Hadid, model Ellen Tighe)
Unicorn braids are quickly replacing the boxer braids we've become so fond of and look great teamed with them or without them.
Braids will always be ever popular for festivals as they keep hair out of your face, require no maintenance once done and can be slept on rained on and loosened out for a wavy look.
Step 1: Start off with wavy hair if you're using flowers or straight hair if not, whatever you prefer. I would sleep on braids or use a wand to get a tousled bohemian look.
Step 2: Section off the centre of your hair from above your brow arch on both sides and clip the rest of your hair away.
Step 3: Use spf or sun protection spray as your styler instead of gel (you never know it might just be sunny so protect your hair and scalp!) start your braid at the front in 3 sections and proceed with a French (or Dutch) braid working back. Secure with an elastic band.
Step 4: Place flower clips or pins or real ones if you prefer, dotted through the lengths of the hair. I used clip in vines from Penneys and Claire's Accessories.
If you're really adventurous you could use some colour spray or hair chalk through the ends too!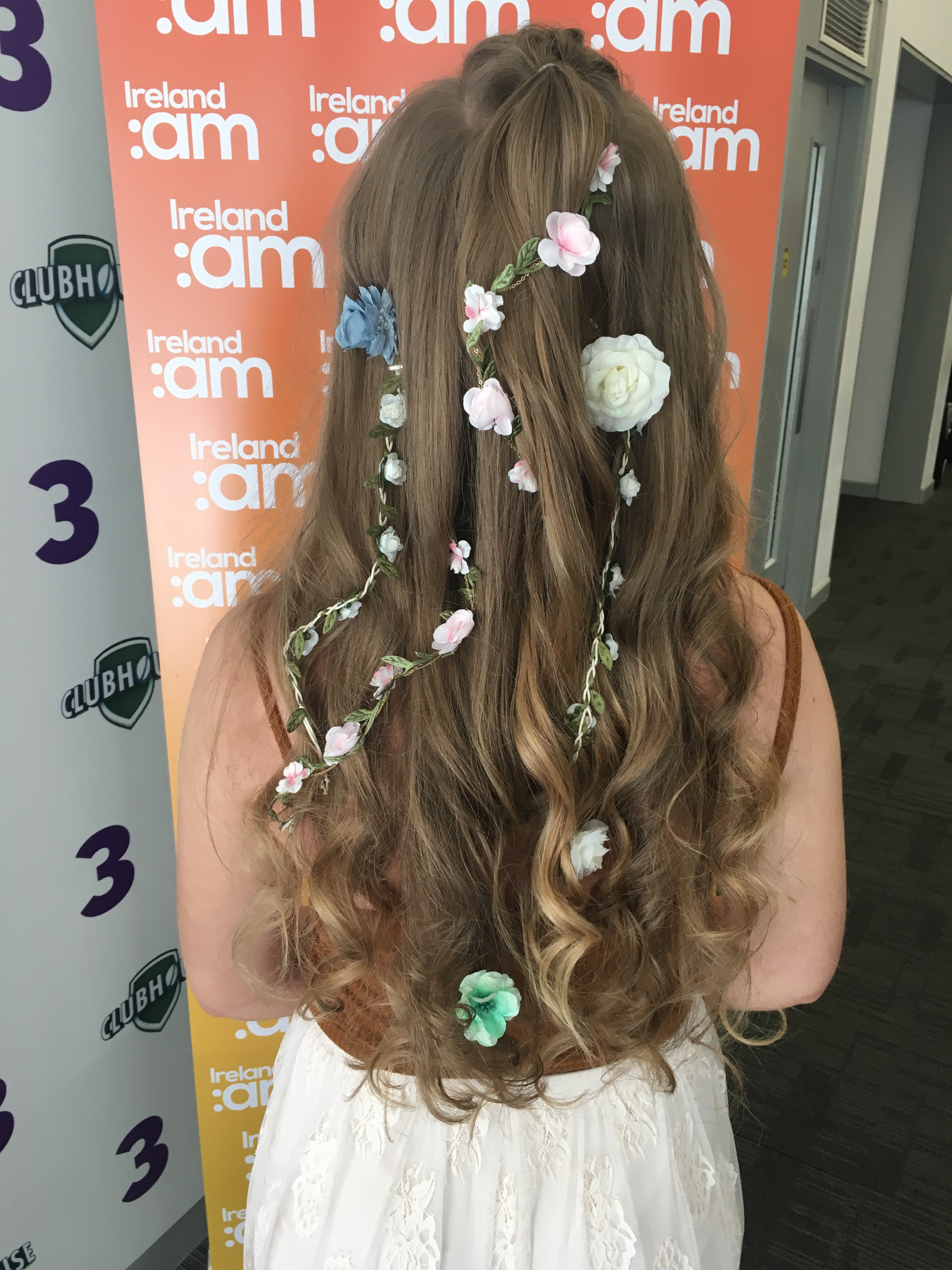 DAY 2: Ariana Grande inspired ponytail with hair rings. This is perfect for next day greasy hair and incorporates your unicorn braid! (Model Ellen Tighe)

Step1: Using sun protection spray (if it's sunny) or hair gel, pull all your loose hair into a sleek high ponytail.
Step 2: Backcomb the base of your ponytail to add volume.
Step 3: Attach hair rings down through the braid like ariana's (available from Claire's accessories.)
You need to travel light so keep your hair essentials to a minimum and travel sized.
1. Dry shampoo for the non showering days.
2. Sun protection hair spray  if you think it's going to be sunny, don't forget sun cream on your parting, your scalp is still skin!
3. Bobby pins and bobbins.
4. A Tangle Teezer to brush out any amount of bed head.
5. If your festival has electrical points and you plan on bringing a plug in appliance keep it light and easy to fold away like the DAFNI go styler.
-Tori x
(Images: www.twistmagazine.com, www.glamourmagazine.co.uk)