Thinning hair or balding is not so much of a taboo now. It is definitely more talked about than it was even 5 years ago and as us women tend to point out our insecurities and discuss them, it is still difficult for a lot of men to broach the subject.
I wanted to put together a blog post on the different methods of treating hair loss from shampoos to implantation.
This is a topic close to my heart as I know so many people that have suffered with this problem, both male and female but mostly male so this one is for you guys…
1- Shampoos and other products:

Viviscal:
As a brand I love Viviscal, they are constantly developing new products, are affordable and are also available to buy in Boots and some of your local pharmacies. There is a huge range to choose from on the Viviscal website, from shampoos to serums and supplements so you can search for what suits you best.
My favourite of their range though are the ingenious Hair Fibres.
There's one for every hair colour so don't worry about them looking unnatural. They work really well at filling in the gaps and are so easy to use. All you have to do is wash and dry your hair (the fibres will clump on wet hair.) Apply your favourite wax, gel, clay…. (If you use a gel instead of a clay it's easier to style and spread the fibre.)
I recommend Manga Head by Garnier Fructis for using hair fibres.
Once your hair is styled spread the thinning hair apart and apply the fibers directly onto the area. Gently run your fingers through your hair to make sure your get an even spread of the fibres, be careful when applying to your hairline as you don't want the affect of it looking penciled on. When you are happy with the look, apply hairspray to finish the style. Using hairspray locks in the fibres to your hair and you wont run the risk of any coming out. It really is a genius product that really works.
Shampoos:
This next product comes highly recommended by a lot of hair restoration surgeons and is also available in your local boots. It's made by a company called Bioxsine and like Viviscal they make a number of different treatments for hair loss also. The two most popular products they make are the Serum and their Shampoo (which are currently 20/25% off on the McCabes website)
These products used together will improve the heath of your existing hair and also potentially help regrow and nourish dying follicles. It is advised to try these options for a good while before resorting to more permanent measures.
Ok so you've tried the supplements and the shampoos and you need something stronger. Rogaine/ Regaine is your next option.
Also available from Boots, Regaine is pricey but effective.
The Key ingredient in this product is Minoxidil. Minoxidil solution is said to stimulate the scalp and promote hair growth.
As these products are quite expensive there is a cheaper option which also contains 5% Minoxidil. Its made by a company called Kirkland. If you are an Ebay user you can buy in bulk and get far better deals. However, customer reviews tell me it can be a bit more noticeable in the hair as it has a greasier texture, so maybe try it out first before you buy a load of it.
Hair Transplants Simplified:
If you feel your hair is too far gone and you're interested in exploring the transplant route, there are many amazing Doctors out there but there also different types of transplantation. I have tried to simplify it here as much as possible.
On attending your first appointment it is likely you will be prescribed Proscar or Propecia which cannot be bought over the counter and is hugely effective. A lot of men find that having used this for a time, they no longer need to go under the knife.
If you do however, these are the 2 most popular methods of hair transplants: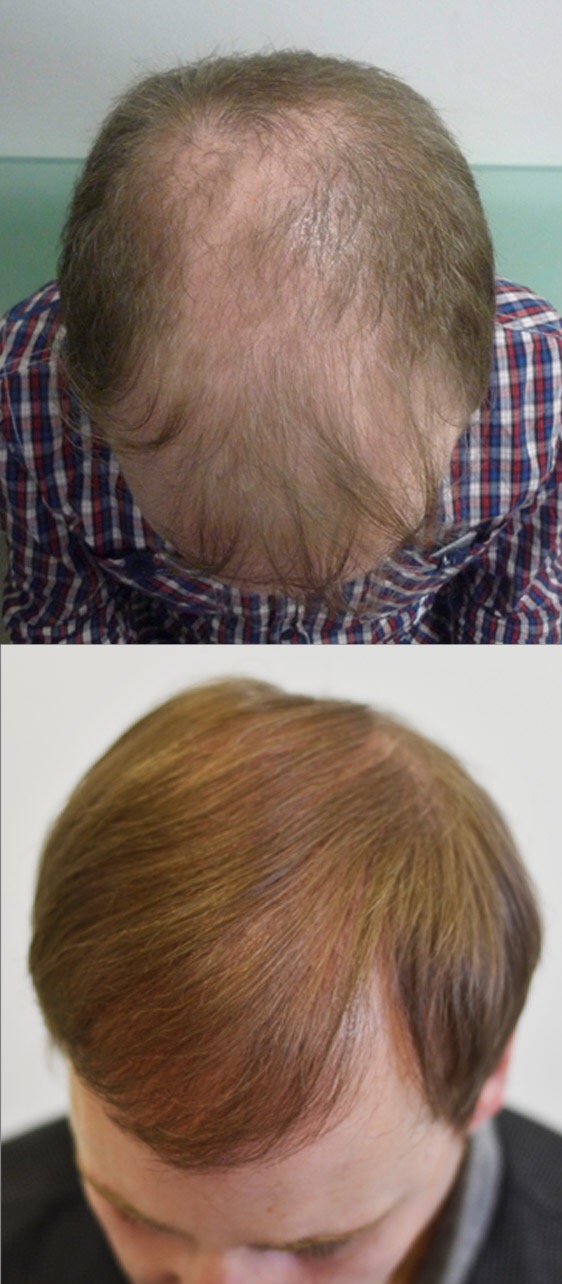 www.therapiehairrestoration.com
FUT (Follicular Unit Transplant)

FUE (Follicular Unit Extraction)
FUT:
This is were the surgeon takes a strip of flesh from the scalp and dissects each follicle individually placing them in the area that is thinning.
PROS of FUT:
* Seemingly there is a higher chance of retaining the transplanted follicles compared to FUE but this is debatable and a good topic for discussion with your surgeon.
* There is no need to shave your entire head, so after a week or two no-one would know you had anything done as you didn't need to shave your head.
Cons:
* Large scaring on the donor area. If your surgeon is really good then you will have a thin scar, but it will be noticeable if you ever cut your hair short or shave your head.
* Healing time takes alot longer than FUE and is also seemingly more painful.
* You cannot exercise for at least 4 weeks after FUT as you have undergone surgery. However, you can exercise after a few days with FUE.
* Potentially the scar can stretch over time.
FUE:
This is a transplant technique in which a small round punch is used to extract hair follicles from an area of dense hair growth to an area of baldness. Each unit contains one to four hairs.
This is the same method that Wayne Rooney used.
* No linear scaring. This is the biggest advantage I find. With FUE the follicles are taken out one by one with no strip surgery therefore no large scaring. The FUE scaring is very tiny and is almost unnoticeable. If you also like to cut your hair short on the back and sides then this is the right procedure for you as nobody will detect any scaring like they would with FUT.
* There's less chance of nerve damage as the hole punches dont go as deep as the strip surgery used in FUT.
* The healing time is a lot quicker and less painful too.
* The surgeons work on a graft selection system, which is genius because it allows the doctor to pick the best graphs from the donor area. Meaning, as one follicle can have between one and four hairs in it, the single hairs can be used for making a hairline and the thicker graphs can be used for the crown. This is left to chance with FUT.
Cons:
* This can depend on the surgeon you use but if the hole that is used to either extract or plant the follicle is too large it can cause larger scaring or potentially damage surrounding follicles.
* Some say FUT can usually retain more graphs than FUE but this is not a proven fact and could be discussed with your surgeon.
* You must shave your head if you are going for a big procedure, you don't necessarily have to with FUT.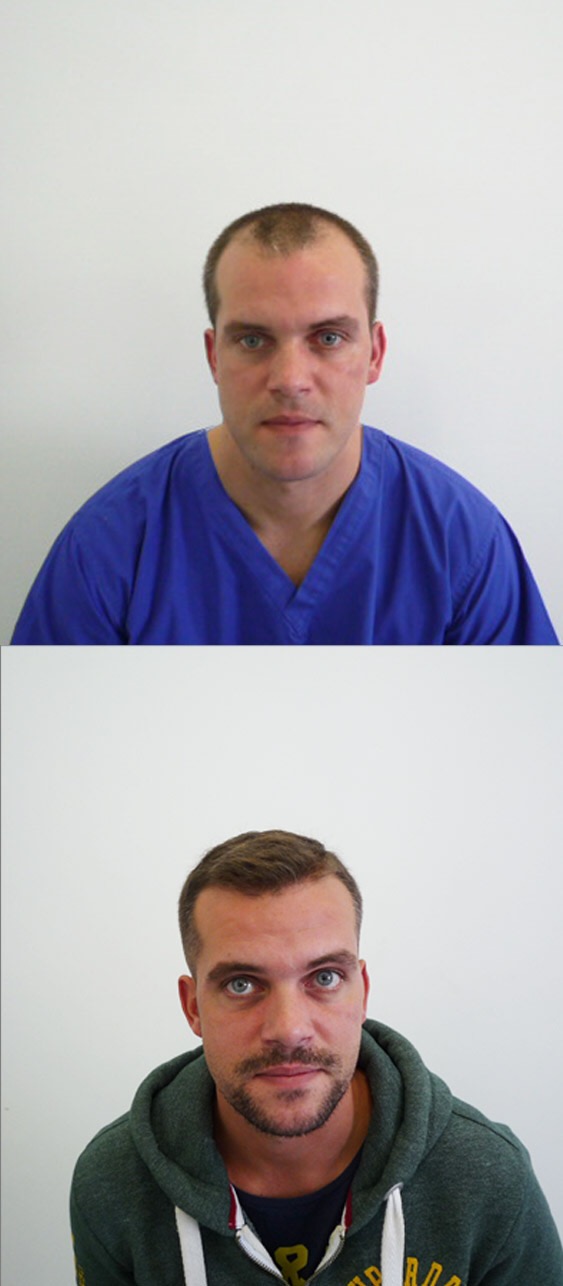 www.therapiehairrestoration.com


Conclusion:
FUE is the better choice in my opinion. Transplantation started out with FUT but the advances in FUE are growing rapidly. The pros far outweigh the cons and also the fact that you can cut your hair short and not worry about scarring is great. At least until the very near future brings us 'hair cloning'……. Yes I can assure you, this will be happening, but that's for another post!
–Tori xx.
Images: (www.therapiehairrestoration.com, www.pinterest.com)
Tori keane accepts no payment for blog posts, all my opinions/ reviews, good or bad are my own.
Bloggers should always be honest about what products they are endorsing.
Thanks to my male friends for helping me research this post xxx